About us
Who we are

P

iera and Silvano will take you to live for one day or more, as long as you like, in a cottage they have renovated with love and elegance while at the same time taking care of its history and, wherever possible, the original structure.

T

he cottage was neither revolutionized nor modernized if not strictly necessary, that's why you can find the original beams with their 300-year-old history, without toxic paints and without being refined.

M

odern insulation and floor heating are instead one of the most appreciated features of Macapè,

t

hat will welcome you when coming back from a cold winter landscape, making you experience a most pleasant sensation that you will remember once you are back home …
O

ur guests can choose rooms for 2 or 4 people, each provided with independent bathroom and shower. A common room will welcome you in the morning, where a breakfast with local products will be served.
Each room is provided with a storeroom and a locker, where you can leave boots, skis, snow poles… and maybe a bike in the summer time!
Where are we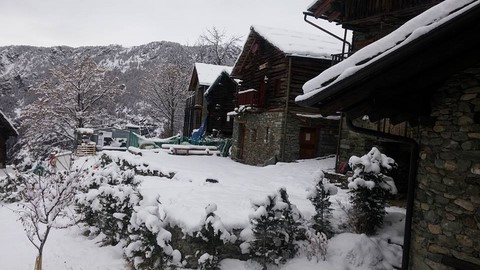 All of this in Chamois, in the Cervino valley. The Frazione Ville (nr. 32) was the first area in Chamois to be inhabited, and the first achievable following the path coming up from Buisson (six minutes by cable car) coming over the 700mt of difference in level.
Chamois can also be reached with a pleasant 4km hiking starting from La Magdeleine, passing through woods and fields.
You may often meet the gracious wild animals that gave the name at the town; the "chamois" ("camosci" in Italian), a kind of mountain goats, usually in the meadow under the cable car passage, nowadays used to its presence.
Chamois is well known, also by people that have never been here; probably because of being a village without any cars, and thanks to its qualification of "Pearl of the Alps" achieved some years go.
Other than the classical downhill (alpine) ski slopes, Chamois also offers you the possibility to practice cross country skiing, mountaineering skiing, and hiking with racket snowshoes through wonderful paths; the same paths that in the summer time become mountain bike and hiking stunning tracks, like the footpath to the Lod Lake and the one that leads you to the Clavalitè Sanctuary (2500m) from where you'll have an amazing view on the Cervino mount and the others alpine peaks of the Val d'Aosta. Chamois is also a paradise for parapente!
How to get there
Chamois may be reached by the Buisson/Chamois cable car public transport service. The cable car service departure is located at Buisson, 10km away from the Chàtillon bus and train station.
For those arriving by car, take the direction to Cervinia after the highway tollbooth at Chàtillon.
The one way ticket is 2,50€, round ticket 4€.
Timetable: runs every 30mins from 7AM to 8PM (one round at 21.00 and the last one at 22.00, additional runs are foreseen in summer time)
They say about us

abbiamo trascorso un fine settimana in questa incantevole struttura, e ringraziamo dell'ospitalità il B&B Macapé. La struttura è curata in ogni minimo particolare con degli accorgimenti veramente esclusivi, il profumo del legno e l'ambiente circostante richiamano le antiche abitudini del luogo che è veramente incantevole, il silenzio e l'assenza di veicoli a motore sono un'esclusiva che rendono Chamois un luogo ideale per una vacanza (Laura e stefano, tavarnelle val di pesa, Italy)